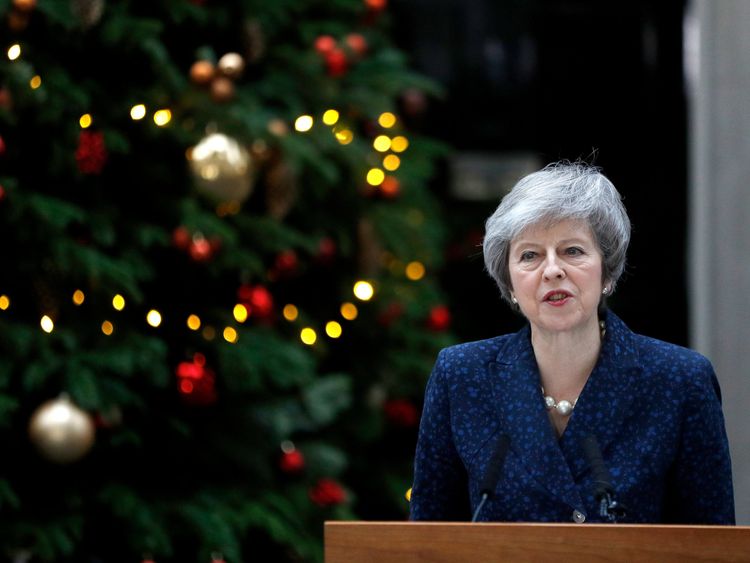 Of 317 Conservative members of parliament who voted in Wednesday's no-confidence vote, 200 supported Prime Minister Theresa May, and 117 voted against.
Sparked by anger that the Brexit deal she had negotiated was nothing like what voters had been promised, the dissenting MPs used the party rule book to trigger a vote of no confidence.
Theresa May has told her own Conservative MPs she will not stand in the next general election.
It is thought that her Withdrawal Agreement can only get through the Commons if the European Union agrees to a legal addendum committing it to negotiating a free trade deal and agreeing a mechanism to allow the United Kingdom to exit the backstop unilaterally.
Referring to reports Bercow had told students he voted remain in the 2016 referendum, the leader of the House of Commons, Andrea Leadsom said earlier this week, "he's made his views on Brexit on the record, and the problem with that of course is that the chair's impartiality is absolutely essential".
May must now seek to fix a new date for a parliamentary vote on her Brexit withdrawal agreement, with time running out until the United Kingdom leaves the bloc in March 2019.
But she admitted that she did not "expect and immediate breakthrough" on the issue, adding: "What I do hope is that we can start to work as quickly as possible on the assurances that are necessary".
It seems unlikely that would win over enough support for her Brexit plan to have a realistic chance of getting through the House of Commons, with tensions heightened in the Conservative Party in the wake of Wednesday evening's confidence vote.
Speaking after the win, she said: 'This has been a long and challenging day, but at the end of it I'm pleased to have received the backing of my colleagues in tonight's ballot.
A former Bank of England employee and daughter of a Church of England pastor, May has been widely praised for a punishing work ethic and dedication to duty, but her premiership has been characterised by obduracy in the face of crises.
If Mrs May can not secure legally-binding changes to her deal and it falls in the Commons, she has pledged to bring forward a motion by January 21 laying out what she will do next.
Earlier this week, the prime minister travelled to meet European Union leaders, including German Chancellor Angela Merkel and Dutch Prime Minister Mark Rutte, to raise the issues surrounding the withdrawal agreement at Westminster one-on-one.
The Dutch prime minister said he had the "highest admiration" for May winning Wednesday's vote of confidence and paid tribute to the "tenacity" and "resilience" she had shown over Brexit. If given a dose of truth serum, most Labour MPs would say they would scrap any talk of Brexit altogether. The prime minister said the people have already spoken, and a second referendum is an affront to democracy.
The vote had been due to take place on Tuesday, but was dramatically pulled after the whips warned the Prime Minister she was heading for a heavy defeat unless she delayed. She also said she wouldn't seek to call a General Election, which will come as a relief to many Tories.
And this comes after May had said this was the "only deal" and said it could not be changed.
He went on: "Let's assume we get a deal, I think Theresa May [.] will go whenever we tap her on the shoulder after March".
And, according to MPs present at the meeting, she also promised to find a "legally binding solution" to ensuring that the United Kingdom does not get permanently trapped in a backstop arrangement to keep the Irish border open after Brexit.
"The crisis and chaos now facing the United Kingdom is entirely a result of the vicious civil war that has engulfed the self-centred Conservative Party - at a crucial time in the UK's history, it has a lame duck Prime Minister saddled with a lame duck Brexit deal".
Her victory on Wednesday means that Conservative Party members can not try to oust May as their standard-bearer in the next year.
"We can discuss whether there should be additional assurances, but here the 27 member states will act very much in common and make their interests very clear", she said.